Home Modification Services
Helping Make Living Safer
Home modifications are so much more than building works.  A few small modifications can help keep people safe, mobile and independent and have a huge impact on their daily life.  Our equipment installations are designed to make it easier to enter and move around the home, so clients feel safe and confident living independently.
Our team will take care of everything and will work with your Occupational Therapist or Caregiver to tailor your modifications to ensure they work with you and your home.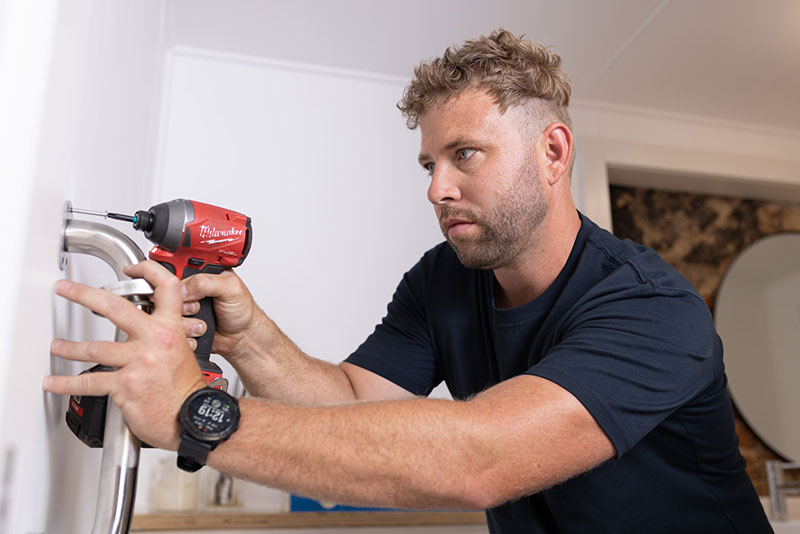 Home Modifications
Assist Rails
Assist rails are a great way to enhance safety around the home. They help support the user's weight, assist in maintaining balance and reduce fatigue while standing.  Assist rails are commonly used in bathrooms to help prevent falls.
Lengths
300mm, 450mm, 600mm,750mm, 900mm, 1200mm
Finishes
Stainless Steel, Polished Stainless Steel, White Ripple, Almond Ivory Ripple
Types
Concealed or Single Hole Flange, Offset and Straight
Grab rails
Bannister rails are used to support the user's weight to help maintain balance when moving between areas.  Traditionally bannisters are installed alongside stairs and steps to help reduce falls. Tradeworks provide a range of off the shelf and custom designed banister rails to suit internal or external applications.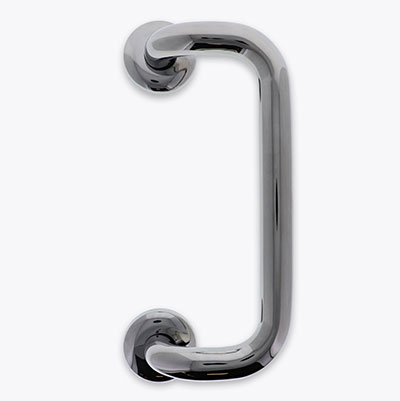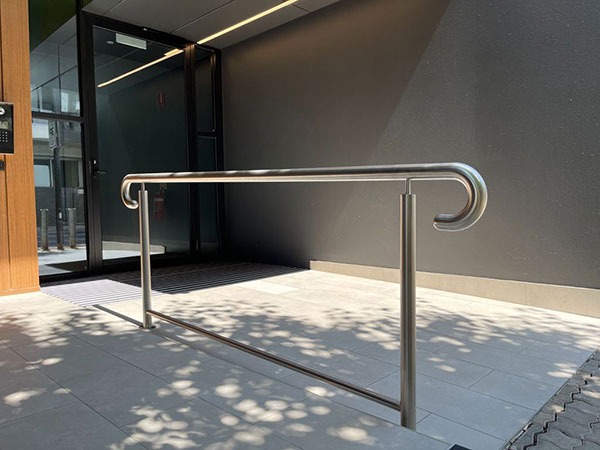 Handrails
Handrails are a fantastic system of support to help users maintain balance when walking between areas. They are commonly installed alongside the length of the driveway, pathways or in hallways and corridors to help prevent falls.  They can be custom-fabricated to suit your home and come in galvanised steel, stainless steel or can be powder coated to match your existing colour scheme.
Please get in touch to find out more, discuss home modifications or to request a quotation or onsite appointment.
Home Modifications
Ramps & Pathways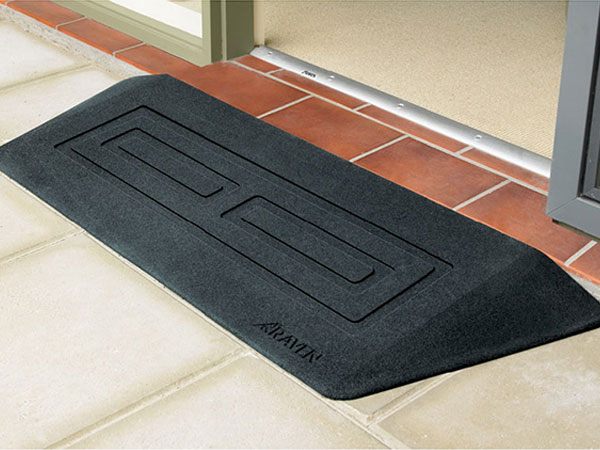 Threshold ramps
Threshold ramps are a great safety and accessibility solution to create easy access around the home. They are the smallest type of ramp, with a maximum length of 280mm and are used to create a bridge between surfaces with a small height variance.
Small changes in the floor levels between carpets and tiles or the interior and exterior of the home, can create a barrier to entry for wheelchairs, scooters or walking frames.  Threshold ramps are commonly installed in doorways, entrances and between rooms to allow for effortless access without having to tilt or lift a wheelchair.
Threshold ramps are available in custom sizes and are usually made from aluminium, steel or rubber.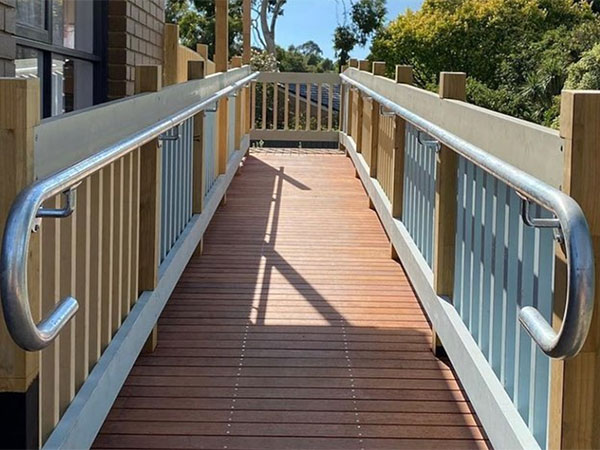 Access Ramps
Access ramps are often made from steel, aluminium or wood and are used to provide access to steep areas that may have multiple steps.  Access ramps are custom designed to suit your requirements and can replace steps or be installed over your existing steps. 
The surface of a ramp (slippage and rolling resistance) is critical to ensure safe and smooth access.  So, we provide a complete range of surface finishes including grit coatings or traction lines to avoid slippage hazards.
Access ramps often have an incline of between 1:12 to 1:20 depending on the application and are used to create a smooth, easy and continuous transition between areas.
Traditionally installed in the exterior of the home, access ramps are designed to comply with AS1428.1.  The length and incline of the ramp will be determined by the weight and type of wheelchair or scooter to be used.  Our modular or custom-designed ramps are suitable for both internal and external applications.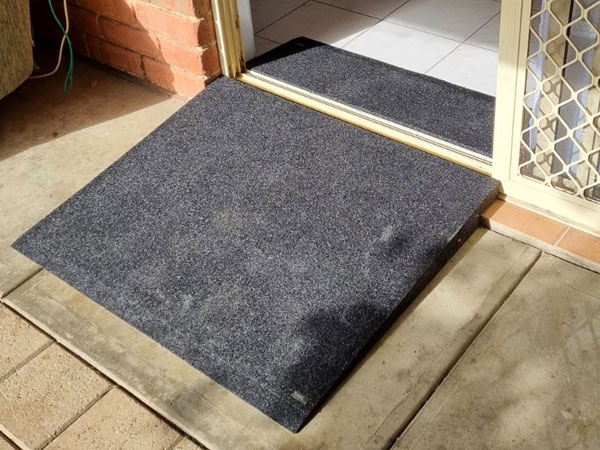 Step Ramps
Step ramps are small ramps used to bridge heights of 190mm or less.  They are commonly installed on patios and porches which have a small step up to the interior of the home.  Step ramps have a gentle 1:10 incline ratio, so for every 1cm in height, the ramp will be 10cm in length to allow easy, independent wheelchair access.  Step ramps are available in steel, aluminium or wood and come complete with a non-slip surface finish.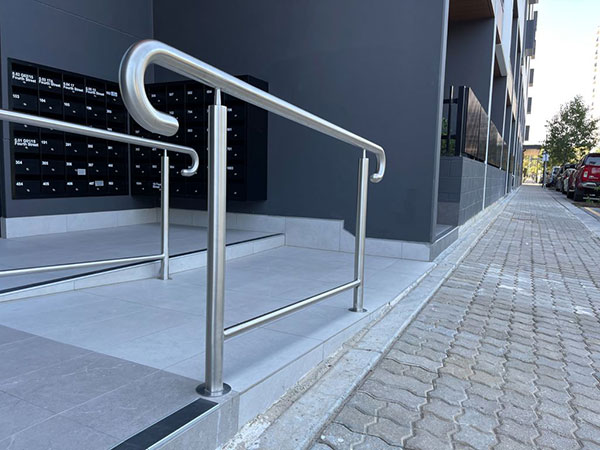 Concrete Pathways & Ramps
In addition to the standard steel and aluminium ramps, the Tradeworks Home Modifications team can install bespoke concrete pathways and ramps.  Concrete pathways are an ideal solution to provide a continuous, permanent access along the length of a property or around curved areas that are not ideally suited to modular ramps.
Please get in touch to find out more, discuss home modifications or to request a quotation or onsite appointment.
Platform Steps
Platform steps are often used where ramps cannot be installed due to space restrictions.  They are ideal for people who use walking frames  as the steps are long and wide to accommodate the user and walking aid.  Platform steps have low risers (step heights) to make it easy for the user to lift the walking aid/frame between steps.
Platform steps are custom made in timber, steel or concrete and come complete with a non-slip surface and contrasting stair nosing to make the edges of the step clearly visible for added safety.
Half Steps
Half steps are great for people with mobility issues who do not use a wheelchair and do not require a ramp.  A half step is a single step platform that is used to break the step into a manageable height for easy access to the home.
Most external doors have a frame or sill that sits above ground level which can be a potential trip or falling hazard for those with mobility issues.  The half step provides a long and wide platform to reduce the step height to safely support users with walking aids to transition between the inside and outside of the home.
Half steps are custom made  in steel and timber and come complete with a non-slip surface for excellent grip in both wet and dry conditions.
Please get in touch to find out more, discuss home modifications or to request a quotation or onsite appointment.
Home Modifications
Door Modifications 
Doorway Widening
Doorway widening allows for easy access and movement around the home for people who use a wheelchair or walking frame.  Tradeworks offer a full range of doorway modifications and can widen internal and external doors in standard and load-bearing walls.
The standard doorway width in Australia is 820mm, although doors widths of 720mm, 770mm and 870mm are also used.  People using a wheelchair need a minimum width of 900mm to provide the necessary clearance required for a standard-sized wheelchair of 635mm.
Tradeworks will work with you and your Homecare Provider or Occupational Therapist to ensure we provide the best solutions to suit your individual circumstances.  We provide doors for the entrance, living room, bathroom, bedroom and kitchen doors with swing, cavity or sliding applications.
Magnetic Catches
Magnetic door catches are a simple and easy way to improve safety and mobility around the home.  Door magnets effectively hold the door open for the user.  This frees up both hands to use on the wheelchair or walking frame which helps prevent falls and injuries when moving through a doorway.
Door magnets can be wall, ceiling or floor mounted and come in a selection of different colours to suit your décor.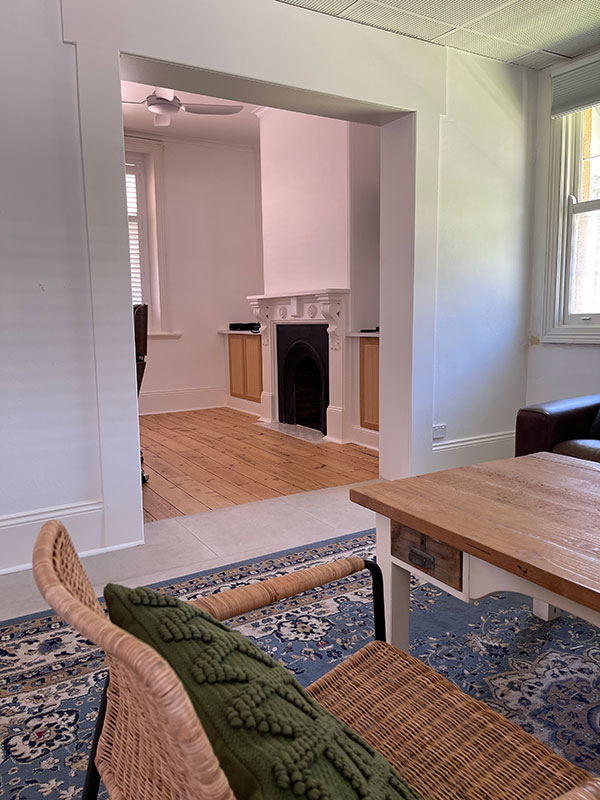 Home Modifications
Assistive Technology
Assistive technology (AT) covers a range of physical supports and automation options that help make day to day living easier or help people with a disability to function independently.
Platform Lifts
Platform lifts are the perfect solution to allow wheelchair access to areas where ramps cannot be used and are custom made to suit your requirements.  They are highly versatile and can be used both inside and outside of the home.  Platform lifts commonly cater for one wheelchair and provide safe and independent access to vertical or inclined spaces.   
Ceiling Hoists
Ceiling hoists are a great way to help lift and safely move people who live with a disability.  We offer a complete range of motorised ceiling hoists and tracks that are anatomically designed for maximum safety and comfort. 
Ceiling hoists can be used independently or by caregivers for quick and easy transfer between areas.  Tracks are installed on the ceiling along with a hoist to lift and carry the user/patient.  Hoists are operated using a handheld controller which allows the user to move freely and independently along the track with minimal or no support from a caregiver.
In-Home Automation
Tradeworks offer a complete range of home automation products to make life safer and easier.  Our automation range includes-
Automatic door openers
Automated lighting and power controls
Automated climate control
Automated window fittings to open and close curtains or blinds
Emergency call systems
Uninterrupted Power supply (UPS) for any medical equipment
Please call to find out more or discuss your requirements.
Home Modifications
Kitchen & Bathrooms
The experienced team at Tradeworks are Adelaide's leading home modifications provider and we specialise in providing access and usability solutions for kitchens and bathrooms.
From minor modifications like the installation of grab rails and lever taps to more major modifications such as remodelling your kitchen or bathrooms, we've got all your needs covered.  We are happy to work with your occupational therapist or caregiver and will provide onsite consultations where required.
Bathroom Modifications
Bathroom modifications are designed to make bathing and toileting safer and more accessible for the elderly or disabled.  Our experienced trade team provide a range of bathroom solutions including:
Showers – stepless, frameless, shower seats, handheld showers
Toilets – special height toilets, toilet supports and safety rails
Sinks & vanities – special heights sinks with lever taps and vanities designed for wheelchair users
Ceiling hoists
Non-slip flooring
Kitchen Modifications
From kitchen remodelling to adjusting the height of benchtops, cupboards, ovens or power sockets, we are here to help make kitchens more accessible for those living with a disability.  Our kitchen accessibility solutions include:
Retractable benchtops sections for easy food preparation
Wheelchair access underneath stovetops and worktops
Side opening ovens for easy, safe accessibility
Accessible cupboard and pantry solutions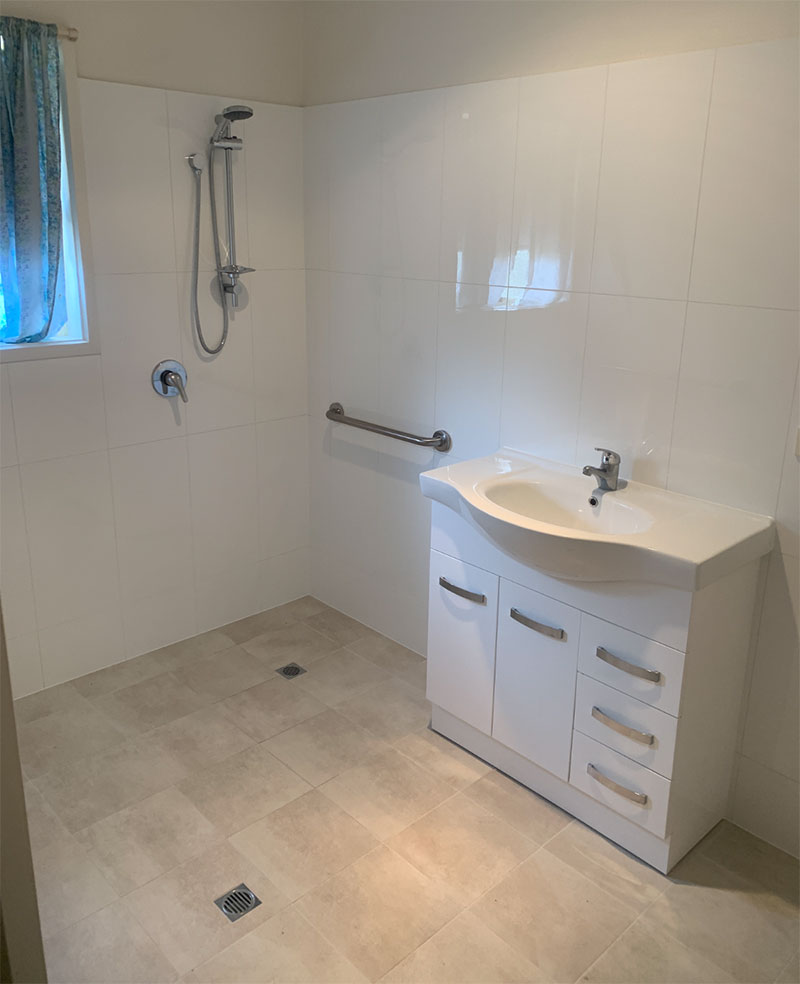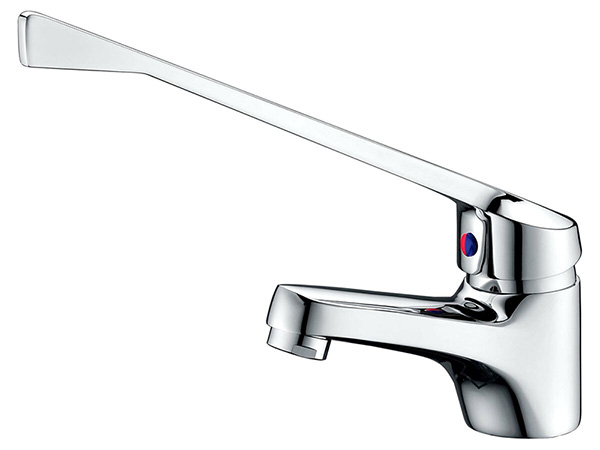 Home Modifications
Lever Taps
Lever taps are an ideal option for those with mobility issues.  The long lever makes them easier to reach and more comfortable to use than traditional twist top taps. Tradeworks offers a selection of single lever and mixer taps in a variety of finishes to suit your décor.
Non-Slip Surface Treatments
Non-slip surface treatments are a critical safety element for the elderly and those who live with a disability.  Our range of non-slip surface treatments include
Non-slip tapes for baths, shower bases and stair nosing
Non-slip paints for external steps, decking or concrete
Non-slip surface treatments for most internal and external surfaces
R-Values
Non-slip surface treatments have an anti-slip classification which is given an "R" value.  R values range from R9 which has a small degree of slip resistance to R13 which provides the highest slip resistance in both wet and dry conditions. We offer a range of different 'R' rated surface treatments which will be installed in line with the latest government regulations.
Transparent & Hardwearing
Non-slip surface treatments are transparent and will not damage or change the appearance of your existing flooring.  Treatments are painted or sprayed directly onto the surface of the floor and utilise very fine particles (similar to grit) to create a non-slip coating.  Non-slip treatments are highly versatile and adhere to almost any surface including ceramics, porcelain, marble, epoxy, timber, vinyl and concrete.